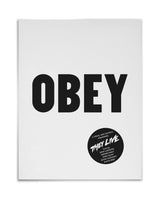 A visual celebration of one of the 80s most revered cult films, designed as a perfect replica from the film's iconic magazine stand. Politics, art, music, comics, literature, philosophy, and of course film,
They Live
touches on topics that are as relevant now as they were then. Leading cultural figures, explore and examine the film's influence and impact. Foreword from director
John Carpenter
and published by Rough Trade Books.
— Designed as a replica of the original film prop, including all the infamous commands

— Subliminal commands hidden throughout the book

— Original short-story in full by
Ray Nelson
— Comic Book adaptation in full by
Ray Nelson
and
Bill Wray
— Original contributions from
John Grant, Slavoj Zizek, Shepard Fairey, Roger Luckhurst,
and
Brandalism
— Rare and unseen archive material exploring the film's genesis

— Specialist glyph typeface of the alien language (Formaldehyde-face)
 created by
Tim Donaldson
— Rare archive imagery from
Barbara Kruger, Jenny Holzer, Guerrilla Girls, the LA Times, the Reagan family, the Trump Campaign
and
WWE.


EUROPEAN CUSTOMERS
If you're ordering from Europe you might find it easier to order this title via our distributors IDEA Books or feel free to get in touch with them and they will be able to let you know of the nearest stockist in your country. This way not only will you be supporting independent bookshops, you will also avoid having additional customs charges on your order.