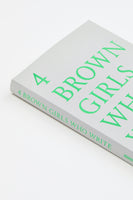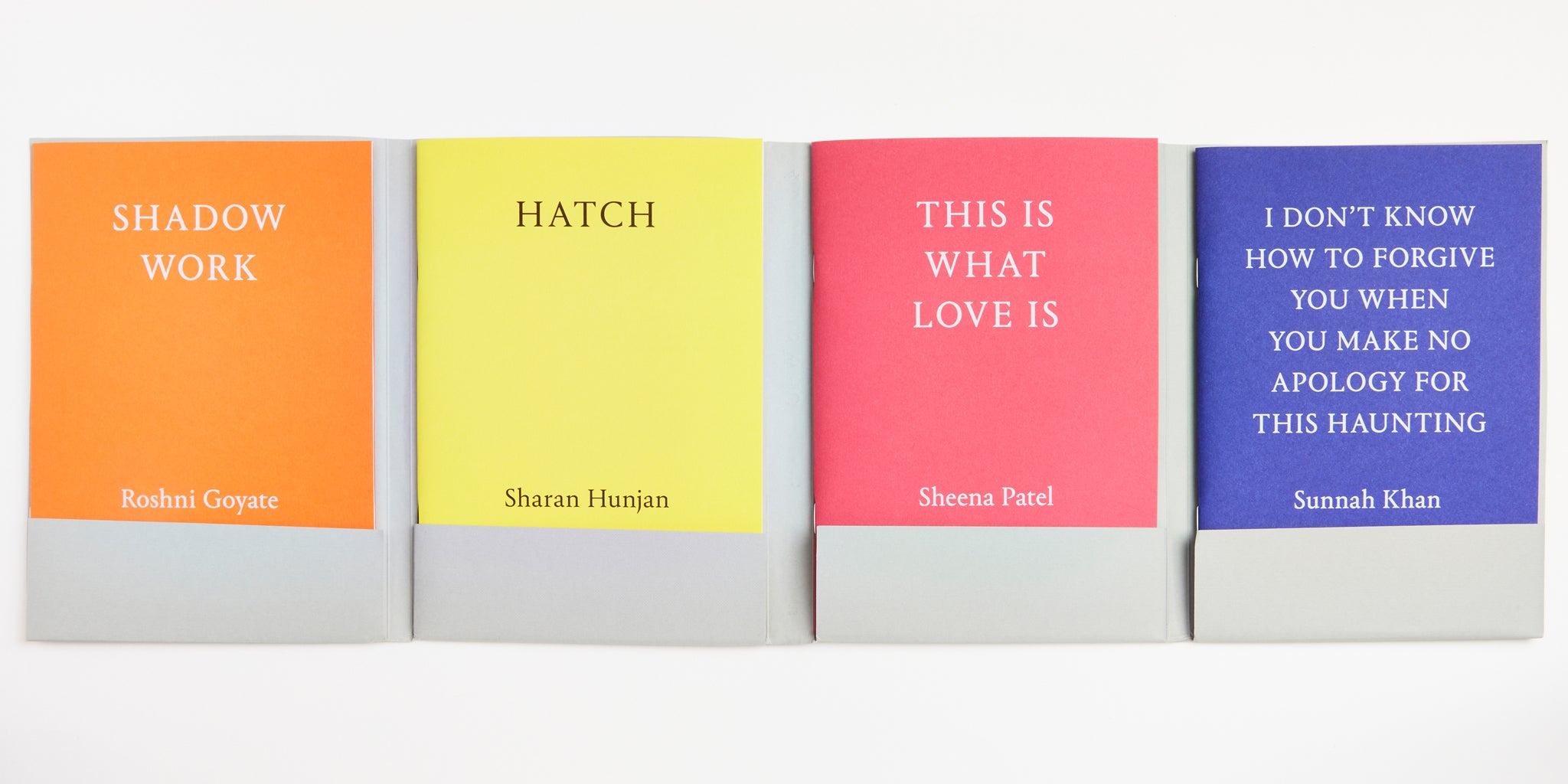 4 BROWN GIRLS WHO WRITE are Roshni Goyate, Sharan Hunjan, Sheena Patel and Sunnah Khan. These four writers that make up this talented collective bring their radical, polyphonic performance style to bear on a series of individual pamphlets that still resonate with their collaborative force. Each author's discreet publication is a stand-alone work, published here as a set of poetry and prose pamphlets, highlighting the daring, brilliant writing that characterises both the group and each individual author.

4 BROWN GIRLS WHO WRITE includes four individual pamphlets enclosed in a specially designed wrap...

1 - Shadow Work by Roshni Goyate
We all have shadow selves—the sides to us that are hidden, unknown, unconscious. These are parts of ourselves that we learn at a very early age to turn away from. Shadow Work is a poetry collection that seeks to discern what's in the shadows, to uncover what is silenced. It explores the contradictions of living multiple lives as a woman of colour, a lover, a mother and a poet in the 21st century. Through the themes of food, family, music, place, and language, these poems attempt to interrogate broader questions of globalisation, austerity, immigrant-diasporic identity, and the impacts of intergenerational silence and trauma.

2 - Hatch by Sharan Hunjan
In Hatch, Sharan Hunjan presents an utterly compelling set of poems that break open and break apart language, mother tongue, motherhood, love and death through the always acute observations of a second-generation Punjabi immigrant. It is a startling, playful interrogation of the coloniser's language rooted in the nostalgia and guilt of the possible loss of a mother tongue. It is heightened by raw reflections of what it means to become a mother in a series of eponymous poems which lie at the heart of the collection.
Hatch is a birth, an opening, a beginning.


3 - This Is What Love Is by Sheena Patel

This Is What Love Is, is a story about a recovering co-dependent, anxiety-laden, introverted-extrovert through a series of events and their aftermath across a year in her life. In prose of astonishing clarity and craft, this wildly honest exploration of the stories we tell ourselves and the tension they hold against the stories which exist out in the world, introduces a vivid new literary voice.

4 - I Don't Know How to Forgive You When You Make No Apology For This Haunting by Sunnah Khan
I Don't Know How To Forgive You When You Make No Apology For This Haunting gives voice to the ghosts of things unsaid—unearthing memory and drawing from the everyday to create a portrait of the self-reflecting on the implications of all it has come to inherit. From exploring a father's absence with surprising religious reverence to sharp interrogations of identity politics, this collection bristles with quiet frustration and wrestles with grief—ultimately prevailing with the determination to transform—picking pain up with both hands and holding it to the light.

EUROPEAN CUSTOMERS
If you're ordering from Europe you might find it easier to order this title via our distributors IDEA Books or feel free to get in touch with them and they will be able to let you know of the nearest stockist in your country. This way not only will you be supporting independent bookshops, you will also avoid having additional customs charges on your order.
THIS TITLE IS ALSO AVAILABLE AS AN EBOOK FROM ALL YOUR FAVOURITE EBOOK STORES.