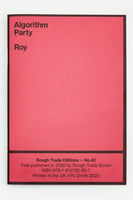 ROUGH TRADE EDITION No.40
Algorithm Party is a debut publication in which an utterly original, fully-formed literary voice announces itself, somehow full of life, on the page. Liverpool's spoken-word performer Roy's deft, articulate and startlingly observed stories veer from the comic to the calamitous in a breath, cutting to the quick of the broad swathe of people and personalities that comprise his native city, from struggling parents to small-time criminals, pent-up white-collar workers to drinkers long lost to the ale. Roy's eye is as keen as it is generous, presenting, in the great tradition of English realism, the real lives of people up against it in all sorts of ways, muddling through, trying to make the best of it.
EUROPEAN CUSTOMERS
If you're ordering from Europe you might find it easier to order this title via our distributors IDEA Books or feel free to get in touch with them and they will be able to let you know of the nearest stockist in your country. This way not only will you be supporting independent bookshops, you will also avoid having additional customs charges on your order.
THIS TITLE IS ALSO AVAILABLE AS AN EBOOK FROM ALL YOUR FAVOURITE EBOOK STORES.