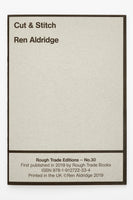 ROUGH TRADE EDITIONS No.30
Cut & Stitch collects together some of the in-betweens and afterthoughts of Petrol Girls' latest record of the same name, from the perspective of lead vocalist and lyricist, Ren Aldridge. In a similar process to speaking between songs on stage, Aldridge develops and contextualises the ideas and lyrics on the record, writing in and out of them, and making links between them. Through a series of mini-essays, she explores cutting and stitching as a way of thinking about topics such as community, the environment, building solidarity, resisting perfectionism, emotional labour, gender and craft.
THIS TITLE IS ALSO AVAILABLE AS AN EBOOK FROM ALL YOUR FAVOURITE EBOOK STORES.