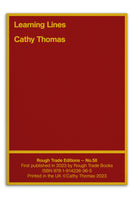 *PRE-ORDERS SHIPPING MID SEPTEMBER
ROUGH TRADE EDITION NO. 58

In Learning Lines, Cathy Thomas takes the reader behind the curtain of the theatre industry, revealing its universal anxieties while at the same time detailing a dark world abundant with its own fakeries and faultlines. In two stories that explore the cracks wrought by a hyper-sexist culture as well as the slow-burn anticipation of young adulthood and the promise of fame, this is exquisitely written fiction that ultimately affirms life in the face of all its disappointments and trials.


EUROPEAN CUSTOMERS
If you're ordering from Europe you might find it easier to order this title via our distributors IDEA books or feel free to get in touch with them and they will be able to let you know of the nearest stockist in your country. This way not only will you be supporting independent bookshops, you will also avoid having additional customs charges on your order.