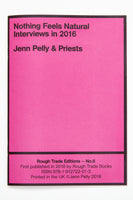 ROUGH TRADE EDITIONS No.8
Nothing Feels Natural is an abridged edition of the zine that originally accompanied Priests' debut LP of the same name in 2017. It features a series of interviews conducted with the band by journalist Jenn Pelly in Washington, DC during the first days of November 2016.
THIS TITLE IS ALSO AVAILABLE AS AN EBOOK FROM ALL YOUR FAVOURITE EBOOK STORES.